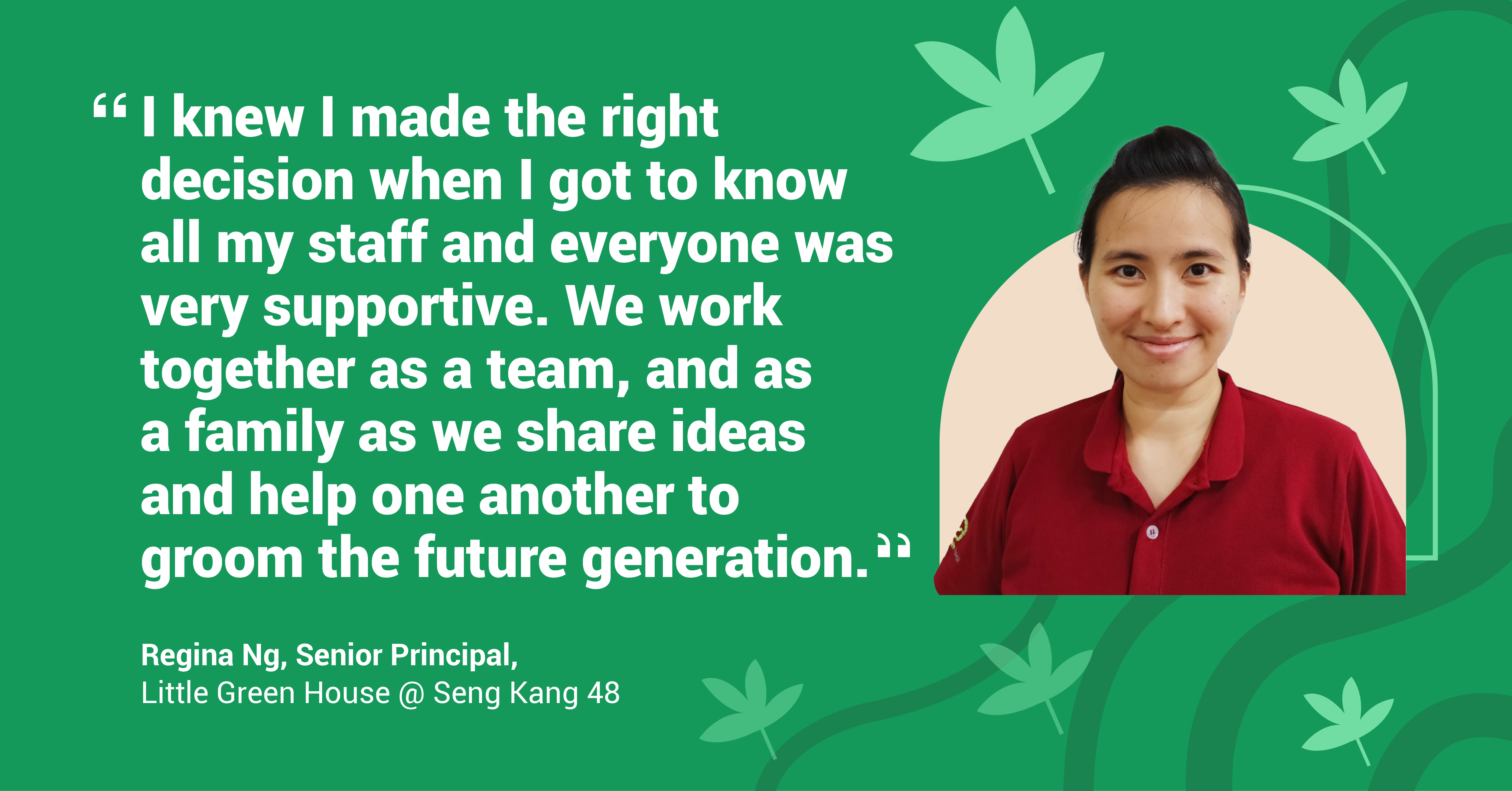 Regina has been with Little Green House for over 3 years. In her role as a Senior Principal, she oversees the daily operations of the centre, foster good parent-centre relationship, ensures the health and safety of her staff and children, and monitors the curriculum delivery and classroom environment of her centre. Regina is dedicated to nurturing the future generation and believes in grooming the staff under her care.
---
Tell Us A Little About Yourself And How You Became A Principal At Little Green House?
I always loved being around children and I started in the industry as a trainee teacher 11 years ago. Over the years, I pursued the leadership track and gained exposure working with different team members over different settings. I chanced upon Little Green House in 2018 as I was looking for a place nearer to home and have been working at the current centre ever since.
What Gets You Excited About Going To Work At Little Green House Every Day?
I will have to credit my great team of staff and the bubbly and cheerful children who greets me with their smiles and laughter at the centre every day.
I'm also very thankful for supportive parents, which makes me excited about going to work!
What Do You Like Most About Little Green House's Culture?
I knew I made the right decision when I got to know all my staff and everyone was very supportive. We work together as a team, and as a family as we share ideas and help one another to groom the future generation.
How Has Little Green House Helped You In Your Professional Growth?
I have been given the opportunity to work with other principals as a senior principal. This new role allowed me to share perspectives and ideas with my fellow principal at Seng Kang 2 as we work closely to align practices
---
About Little Green House
A winner of the "Best Literacy Programme" from 2017 to 2020, alongside numerous SPARK (Singapore Preschool Accreditation Framework) accreditations, Little Green House is renowned for its ability to provide a wondrous environment for the development of children. Customising unique programmes for children ranging from ages of two months to six years, Little Greenhouse's award winning formula combines a set of engaging activities with a rock-solid curriculum in order to give every child the quality education he or she deserves.
Ready To Join Global EduHub? Submit Your Interest Now!