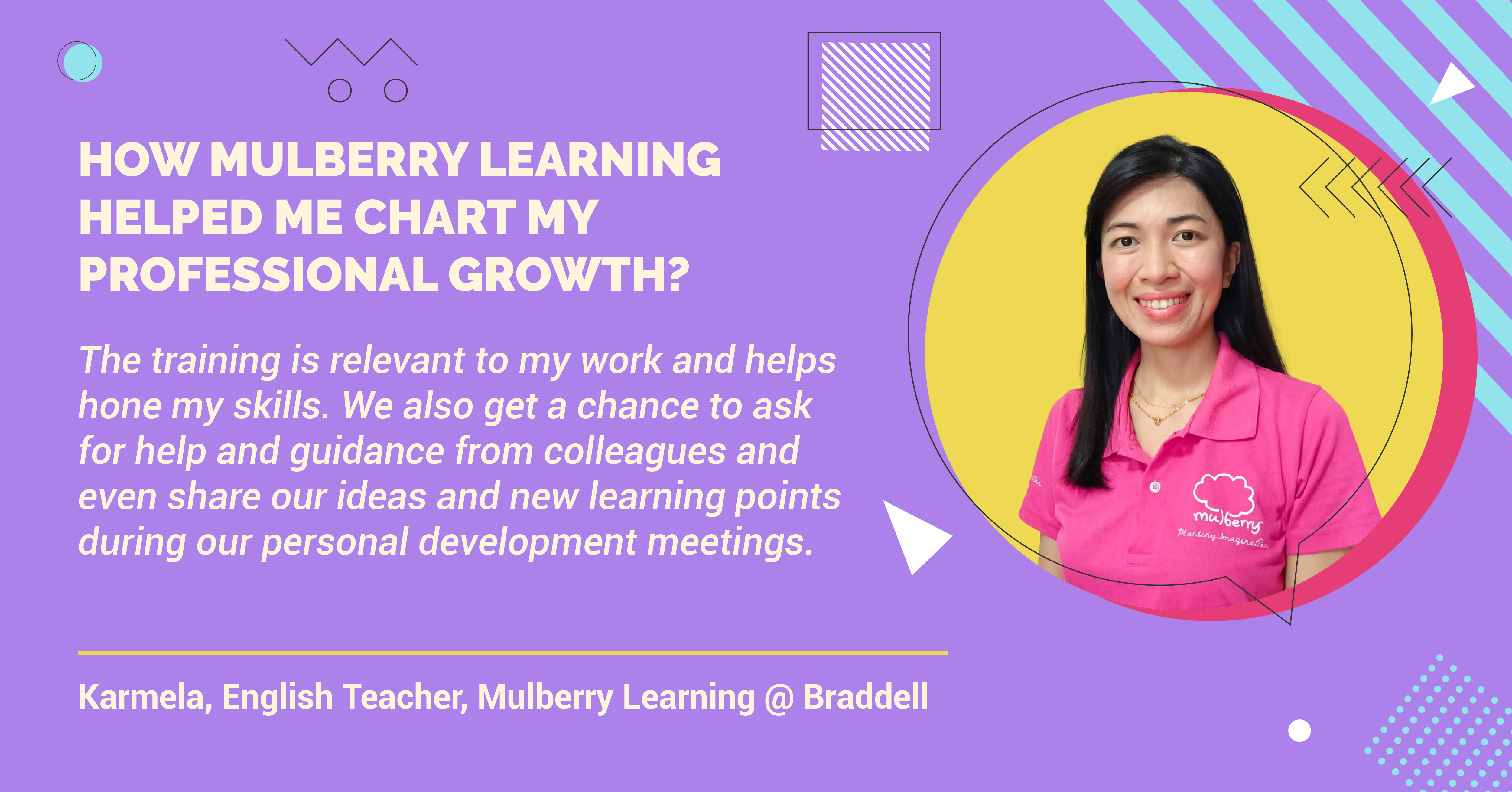 Have you always wanted to become a preschool educator? Find out how Mulberry Learning fulfilled Teacher Karmela's dream and helped chart her professional growth.
---
Since I was a child, I dreamt of becoming an educator. Though it may sound cliché, I do get a sense of accomplishment and fulfillment whenever I see my students develop. To me, being a preschool educator is a rewarding journey. As I work with my students each day, I tap on more of my own creative and mental abilities as compared to if I were to work in an office full of adults.
Why Mulberry Learning?
I first learned about Mulberry Learning through one of my friends who is a staff at one of the preschools. She constantly swoons about the positive environment and benefits, and how the company cares for the welfare of staff. I then started seeing Mulberry Learning continuously listed as one of the top market leaders in the preschool industry. I then decided to grab the opportunity and applied for an English teacher position.
How does a day of work look like for you?
Currently, I'm taking care of the Nursery 1 class. As an English teacher, I plan lessons, prepare activities, write reports, and most importantly, I make sure that my students are learning well, and are safe and happy in school.
What gets you excited about going to work every day?
"I enjoy having a pleasant, spacious, comfortable, and positive work environment. "
At Mulberry Learning, we are supported by the curriculum team at HQ where they provide lesson plans with suggested activities. What we have to do then is to facilitate questions that students have, in line with the Reggio-inspired approach for early childhood learning.
My colleagues are approachable and are experienced in their teaching. I learn a lot from them each day! I also feel appreciated and valued whenever my efforts are noticed by the management.
How has Mulberry Learning played a part in your professional development?
The training provided is relevant to my work and helps hone my skills. We also get a chance to ask for help and guidance from colleagues and even share our ideas and new learning points during our personal development meetings and mentoring sessions.
Even though I have only been with Mulberry Learning for a short two years, I feel that I have learnt a lot as my skills in teaching are constantly being refined and I am becoming more efficient in my responsibilities. The career path for me is clearly defined through the i-InspireTM teacher growth model and I can better prepare myself to take on the senior teacher role in the future!
The benefits granted to the staff at Mulberry Learning are rewarding too. We are given twice a year performance bonus and AWS. The perks of the Wellness Award make us feel noticed and appreciated.
Read more about the benefits and perks of starting a career at Global EduHub!
---
About Mulberry Learning
Established in 2006, Mulberry Learning is an award-winning Reggio-inspired preschool with 13 locations around Singapore.  Mulberry Learning is the world's first and only preschool network certified by the USA for the Habits of MindTM framework, and its curriculum has been voted as "Singapore's Best Holistic Curriculum" for 3 years running by leading parenting publications.
Ready To Join Global EduHub? Submit Your Interest Now!