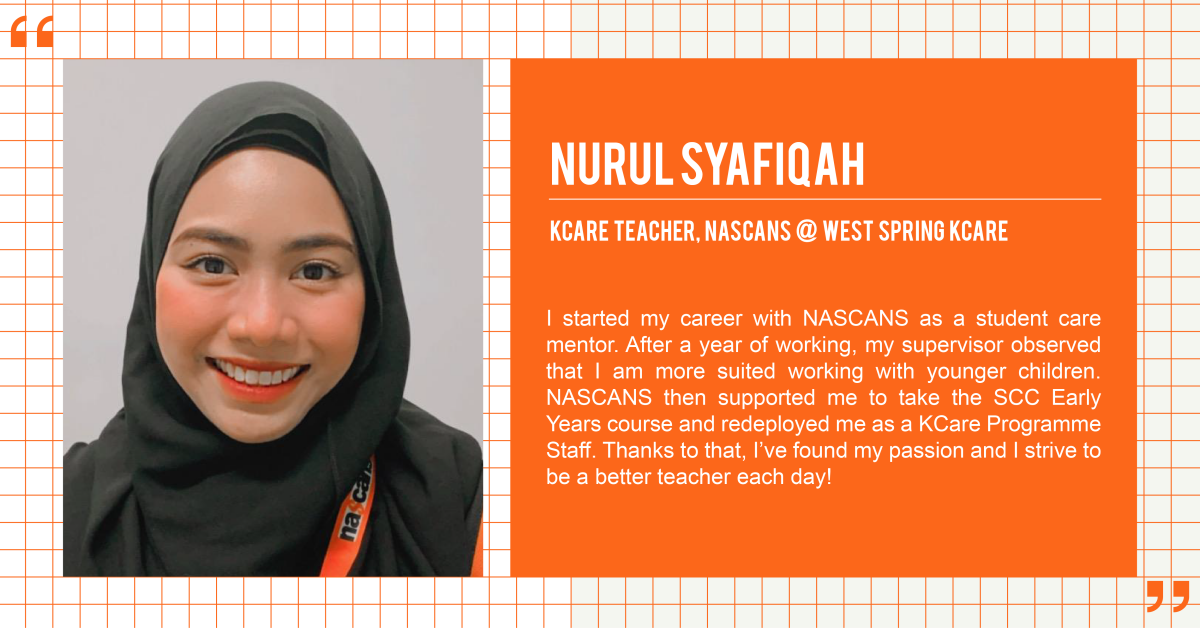 Starting your career but not sure if you're suited for the preschool or student care industry? With over 30 school-based and comm-based student care centres and 8 KCare centres in Singapore, working in an established student care brand like NASCANS has its perks.
Syafiqah knows it too well. With the help of NASCANS, she has successfully transited as a student care mentor to a KCare programme staff. She shares how being in KCare helped her grow from a shy individual to a confident and passionate KCare Teacher!
---
NASCANS SUPPORTED MY STUDIES AND OFFERED ME AN ALTERNATIVE CAREER PATHWAY
I started my career with NASCANS as a student care mentor. After a year of working, my supervisor observed that I am more suited working with younger children and encouraged me to explore options in working with children in the Kindergarten and preschool ages. I was fortunate to have NASCANS supporting me as I took the Introductory SCC and SCC Early Years course to expand my knowledge in the education industry.
After I completed the course, the company redeployed me to join West Spring KCare as a Programme staff.
WHAT MAKES NASCANS KCARE SPECIAL
As a new staff in a new environment, I'm thankful for having amazing colleagues around me who are always willing to lend a helping whenever needed. The on-the-job training helped me transit seamlessly and now, I got to work each day, feeling excited about the activities that I will be conducting with the children.
"In the 4 years I've been working in KCare, I've witnessed how I've grown from a shy individual to a confident and passionate teacher!"
I feel fulfilled when I can make a difference in the children's life, improving their behavior and imparting them good habits. Positive feedback from parents also spurs me on, to continue improving myself daily.
Thanks to that, I found my passion and I strive to be a better teacher each day. I hope that my dedication and passion for teaching would inspire the lives of young children.
---
Established in 2006, NASCANS is a leading student care brand in Singapore with over 20 locations in partner MOE schools and 5 community-based centres, providing students with "an Oasis between School and Home". NASCANS' award-winning programme nurtures children holistically by inculcating positive thinking habits, leadership skills and strength of character through structured and fun learning activities.
READY TO JOIN GLOBAL EDUHUB? SUBMIT YOUR INTEREST NOW!